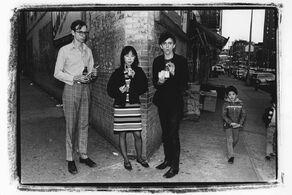 About The No Wave Wiki
Edit
This page is a database for No Wave music and all associated musicians, films, et cetera. Before you contribute, please read the Rules page.
You may contact the administrator by visiting his page here.
Introduction
Edit
No Wave was a short-lived but influential underground music, film, performance art, video, and contemporary art scene that had its beginnings during the mid-1970s in New York City. The term No Wave is in part satirical word play rejecting the commercial elements of the then-popular New Wave genre—a term imported into the New York contemporary artworld by Diego Cortez in a show he curated called "New York/New Wave" held at the Institute for Art and Urban Resources (1981). Read more...
Latest activity
Edit
Ad blocker interference detected!
Wikia is a free-to-use site that makes money from advertising. We have a modified experience for viewers using ad blockers

Wikia is not accessible if you've made further modifications. Remove the custom ad blocker rule(s) and the page will load as expected.