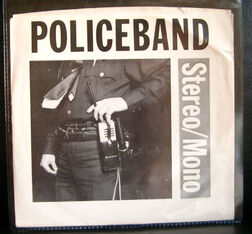 Artist: Boris Policeband
Label: Vacuum Records
Catalogue Number: VR-3210
Format: Vinyl, 7"
Release Date: 1979
Credits: engineered by G. Lindahl, produced by Dick Blair
Notes: Side a subtitled Stereo, side b subtitled Mono
Track Listing:
  A1: PB U.S.A.
  A2: 17 Mary 21 Charlie
  A3: On The Beat
  A4: Kicks Are For Cops
  A5: Dead On Arrival
  B1: Q & A
  B2: Tow Away
  B3: Emerald Society

Ad blocker interference detected!
Wikia is a free-to-use site that makes money from advertising. We have a modified experience for viewers using ad blockers

Wikia is not accessible if you've made further modifications. Remove the custom ad blocker rule(s) and the page will load as expected.