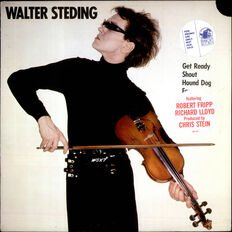 Artist: Walter Steding
Label: Red Star Records
Catalogue Number: RED 101
Format: Vinyl, LP
Release Date: 1980
Credits:
Guitar, Bass - Joey Pinter
Mastered By - Howie Weinberg
Track Listing:
A1: Woke Up Mixed Up
A2: Subterranean Escape
A3: Get Ready
A4: Hound Dog (Guitar-Robert Fripp)
A5: Shout (Bass-Jan-Marek Pakulski, Guitar-Richard Lloyd)
A6: Landing
B1: Incident Of Experience
B2: Druid Ragg
B3: Face
B4: Entry

Ad blocker interference detected!
Wikia is a free-to-use site that makes money from advertising. We have a modified experience for viewers using ad blockers

Wikia is not accessible if you've made further modifications. Remove the custom ad blocker rule(s) and the page will load as expected.